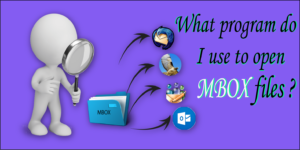 The MBOX file is usually a type of email extension that is stored by multiple email clients such as Apple Mail, Mozilla Thunderbird, Eudora, Sparrow Mail etc. where data is saved on a plain text and start with "from" in the header section. Gradually, we will know about "What program do I use to open a MBOX file"?
Now try to figure out how to open or import MBOX data. In order to open MBOX data in this format, it is necessary to install an Implement an Email client. You can install any email client in your PC but you must have a related platform according to the email client. Below we will discuss some Email clients, which hold MBOX format & How to migrate with MBOX data.
How to import MBOX data into Mozilla Thunderbird
Mozilla Thunderbird is mostly used in organizations / enterprises. It also includes a variety of features that make it suitable for work. If you are using Mozilla Thunderbird then, you use these steps to import MBOX data into Thunderbird (For window platform).
Install "import export tool" Add-on on Thunderbird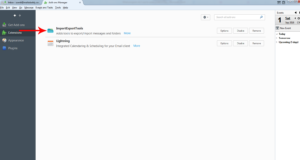 After install Add-on >> Open Tool Menu
Go to Import Export tool >> Choose Import MBOX file option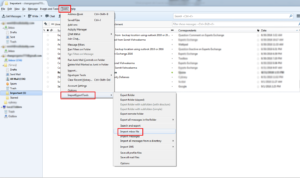 Browse your MBOX data and click on OK button
Check your inbox after importing.
Nowadays, Thunderbird users are getting reduced daily, due to the expansion of Outlook. Outlook is providing many great features to our users as well as Outlook can be used on Android and Windows Phones.
How to open MBOX data into Apple Mail
Apple mail is an inbuilt emailing service of MAC OS, it has many advance features like spam filter, calendar, contacts, smart mailbox, flag messages etc. it can configure with SMTP/POP3/IMAP server protocols and also pre-configure with famous online email client such as Yahoo, Gmail, AOL Mail etc.
If you have MAC PC & you want to open someone MBOX data into your Apple Mail then follow these steps.
Open Apple Mail
Go to file menu and select "Import Mailboxes"Choose files in MBOX format then continue.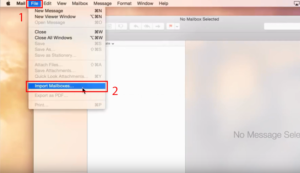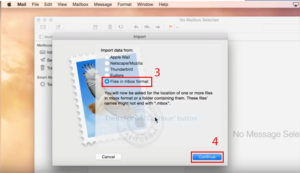 Search you MBOX data and hit on choose button
In preview list, you can select or deselect MBOX file & folders then click on Continue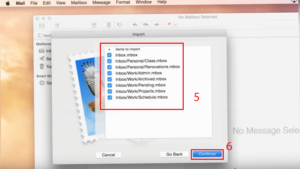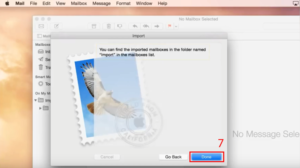 It takes some time as huge your data. After importing, you can check you inbox folder.
This is only for MAC user, if you have Window PC then install Mozilla Thunderbird, Eudora, MS Entourage etc. OR if you want to use most advance feature then use MS Outlook and convert your MBOX data to PST format and import into MS Outlook. Because PST is more stable and reliable format compare to MBOX.
How to upload MBOX data into Eudora Mailbox 
Eudora was developed by Qualcomm Company, it supports SMTP, POP, IMAP protocols & store email into MBX format (.mbox&.mbx have similar structure). Eudora runs on MAC & Window platform & it have some features like spam watch, Bayesian filter etc.
If you want to open an MBOX mailbox in Eudora email client, then follow the Mozilla Thunderbird step as I have shown to you because Eudora supports Thunderbird add-on. Here you have to focus only on the Eudora version, its add-on do not get older than version of Eudora.
How to open/view MBOX data in MailsDaddy Free MBOX viewer
I have shown you different types to open the MBOX data in some email clients. But one stage is that, you want to see or point out only a few messages, then why waste time in importing the installation or importing the mbox data. You can do is by using only MailsDaddy Free MBOX viewer, It will easily view any of the MBOX data. This is 100% absolutely free service of MailsDaddy for viewing MBOX data or email.
It takes some several steps to view MBOX data
First, Download MailsDaddy Free MBOX viewer
Install into your PC
Click on Add file button
Add MBOX file & folders then Next
After upload your MBOX data, click on individual email to see the preview in the right side pane.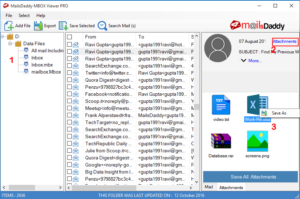 How to save MBOX data into MS Outlook
At last, we take a decision to store MBOX data into MS Outlook, if above tools or email client is not fulfill our desired.This time, we have to need a perfect converter to migrate MBOX to PST format after that we will import into MS Outlook easily. The expert tool means MailsDaddy, which provides the best converters for migrating various email client.
MailsDaddy MBOX to PST converter is the best solution to export MBOX data to PST format in few clicks. It supports 30 email client including Mozilla Thunderbird, Apple Mail, & Eudora as well as its capable to convert multiple MBOX data to Outlook. Its conversion step is so easily, you can explore its steps here.
Some noticeable feature of MBOX to PST converter
Multiple Options to Add MBOX data.
Bulk Export option to migrate all data at once.
See the preview of individual email and their attachments.
Search Email by its Name, To, From, & Date wise.
You can save the email, at the time preview into the given format such as RTF, MSG, EML etc.
The Autoload Button specially designed for Thunderbird users to automatically load MBOX data.
Create single or separate PST file at time of conversion.
Convert MBOX data into various formats instead of PST.
Support all Window and MS Outlook versions whether old or new.
Pros.
100% error free migration.
Instantly work on MBOX to PST conversion
No technical knowledge required.
No any other add on required to convert MBOX data
Cons.
Demo version allows you to convert 20 emails from each folder, if you want to remove this limit you can buy a respective license and get unlimited migration.
Final words
Here, you saw all possible method to import or open MBOX data. If you have any query about related email clients or tool then, you free to comment in the section.
Read Other Articles: