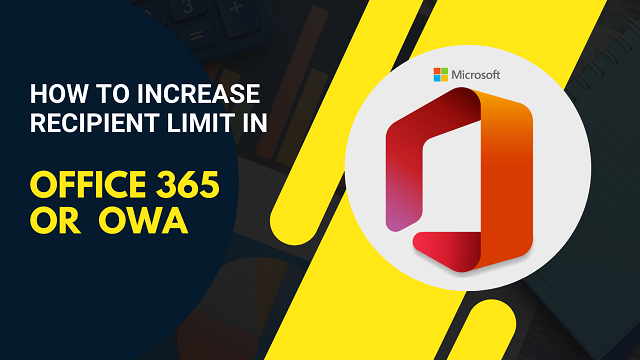 Today, I will tell you "how to increase recipient limit in Office 365" via this post. As all we know Office 365 is a bundle of hidden features and applications, which is important to know for every OWA user.
What is Recipient & Recipient limit?
The recipient is a receiver mail address and when its limit is set by the service provider then it's called the recipient limit. In simple words, a recipient limit is the number of sent emails through a company or enterprise in one day.
About Microsoft Office 365 Recipient Limit!
When Office 365 was launched for the user, then it was set for personal and enterprise license 500 emails from each send mailbox. After some time, the number of users was 1500, based on the response of users. In 2012, Microsoft again worked on the recipient limit point and increased it from 1500 to 10000 per day.
At present time, Microsoft offered to send mail to up to 10000 recipients per day in Enterprise (E1, E2, E3, E4, K1, & K2), Professional and small (P1), and Government plans (G1, G2, G3, and G4). Ahead, you will see the steps to increase the recipient rate limit in Office 365. You may get detailed information here.
How to Increase Recipient Limit in Office 365? 
We know that the message limit is not more than 30 messages per minute, which is the default limit of Microsoft O365. For the large enterprise, users adopt the distribution group method to increase this limit, OR to distribute thousands of emails to their company visitors or promoters, as it is not possible to directly increase this limit.
So, however, we can avoid this limit by creating distribution lists or group mailboxes. It is a small and simple method to send thousands of emails in one day or 24 hours.
Read related article: Create shared mailbox in Office 365