What is Webmail & How to Export Webmail to Outlook PST?
Webmail is web based email client which is implemented on a web server as a web. There are many hosting providers such as: hostgator, Godaddy, Justhost and Bluehost etc which offers three different Webmail clients (Horde, RoundCube and Squirrelmail) for viewing and management of your email accounts. From the all three, Horde allows importing and exporting emails. Many web mails allow you to configure with desktop email via POP3 protocol. Along with some desktop email provides internet service package with few common features. In the next section, you will get know how to migrate emails and contacts from WebMail to Outlook email client.
Data location and how to export in MBOX format?
Webmail does not save file in folder structure or particular desktop location but it saves data on server side, which is subscribe by their clients. If you want to take a backup of your data into MBOX format then follow these steps:
It's make several steps:
First login to webmail
Select Horde
You will see your window mail >> Right click on Inbox or mail contain folder
Select Export option >> Download window appear on the screen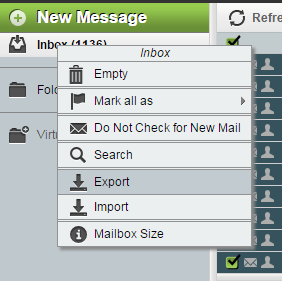 Click on OK button >> Select your desired location.

After Download >> you can see the MBOXmailbox of webmail at your save location.
Why Users are Converting webmail data into Outlook?
Due to use some advance features, users are making the decision to convert webmail client to popularly email client like MS Outlook. Have a look some points
MBOX extension is a common email format, that keeps data on plain text & start with 'From' in the header section.
Internet connection is required to work on Webmail because users cannot use Webmail in offline mode, while Microsoft Outlook provides off-line work, when users configure MS Outlook with Exchange Server with the help of Protocols.You can store your data in offline mode or hard drive.PST format is more secure and stable compare to MBOX.
How to Move Contacts from Webmail to Outlook?
Almost all email clients provide a contact book to store or send important numbers. Similar webmail also stores contact / address book, so now we need to import the contact of webmail contact to MS Outlook, after/before export webmail emails to outlook.
Go to webmail and login
After login web application like Roundcube/squirrel mail >> Go to Contact/Address Book.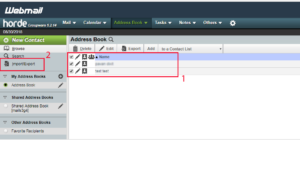 Click on Import/Export >> select Export
Select Comma separated values or vCard format in dropdown.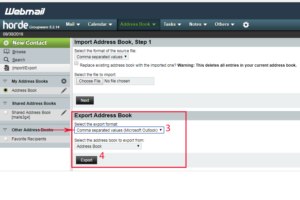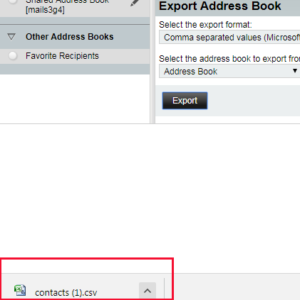 \
At last click on Export Button your contact will begin start to download in .csv or vCard format
How to how to transfer emails from webmail to outlook?
 Now let's come to our question"How to import webmail to Outlook",We will talk about two method to copy and export emails from Webmail like Roundcube, Horde & Squirrel Mail to Microsoft Outlook.
Manual Conversion
Straightforward method
Manual conversion process : If you want to try manual conversion to export webmail to Outlook then I suggest you, before starting manual method keep backup of your mbox data.
After create a backup of mbox data install Eudora on your PC
Copy & paste your mbox data into Eudora mailbox and change extension .mbx beside .mbox
( .mbox or .mbx extension is similar file structure & MS Outlook allows to import Eudora mailbox.)
Open MS Outlook
Go to File tab >> Select import & export option
Select "import internet mail & address" then next >> Select Eudora
Browse your .mbx file (changed extension of .mbox) >> Enable "Replace duplicate file and folder" option then next
Save your desired location then finish.
Some advantage or disadvantage of Manual conversion
 Pros:
It's completely free
Cons:
Too much time taking process.
Extra Email client required in this process (Eudora)
Technical knowledge required.
May be, your pic and attachment damage.
Straightforward method
This is the most effective and instant solution to convert Webmail to Outlook. "MBOX to Outlook converter" is the best GUI based Application, and supports over then 30 email clients. This is most reliable and secure way to Export Webmail to Outlook. With this tool, you can effortless convert your webmail data to MS Outlook and no technical knowledge required to use this tool.
Pros:
 Quick Migrate Webmail data to Outlook
100% error free conversion
No time delay
User-friendly interface
No file size limit
Cons:
With the demo version, you can convert only 20 mails from each folder. If you want to convert all Webmail data to Outlook PST then you can buy a respective license.
Read Other Articles:
How to export Gmail data to Office 365