The whole article is based on "How to remove duplicate contacts and emails in Outlook". Outlook is used on Windows and MAC OS therefore I will show the method for both OS.
Reasons of duplicate Contacts or Emails in Outlook
Sometime we have added the contact multiple times or imported some contact list and mail which has duplicated the stored data in Outlook. When you import new contacts and mails through iCloud, Yahoo, Gmail or other online services then Outlook checks for duplicate data and give the choice of creating a new contact record or merge duplicate contacts. If, by mistake, you have saved duplicate mails and contacts in the Contacts folder, there is no automated process to delete them. If you have only a few duplicate contacts, you can delete them through the manual process.
Delete duplicate contacts in MS Outlook (for Windows)
In the newer version:
Go to people
In current view group choose phone. This is an easy way to check duplicate contacts
Now hold ctrl button and select duplicate contact one by one.
When all duplicate contacts are selected then press Delete or ctrl + D button to remove the contacts in Outlook.
For large contact list: One by one selection and deletion method is unusable with large contact list.  That's why we will export the entire contact first then import it again. From which we can remove duplicate contacts using Outlook's self-implementation filters.
Go to people
Make a new folder in contact and save it by any name like duplicate item.
Back to your contact folder and press Ctrl + A to select all contact at once.
Use Drag n Drop method or press Ctrl+shift+V to open the move item dialog box >> Choose duplicate item (new folder).
Click on file >> Choose import/export option OR File>> Open >> export option (in Outlook 2010)
Select Export to a file
Choose Comma Separate Value (windows) option.
Select duplicate item folder and hit next button.
Save it, where you can fetch easily then click finish button.
Now back to Outlook and import contact:
Click on file tab >> Choose import/export option then choose "import from another program or file".
Now select "Comma separate value (window)" then next.
Click on browse button to find CSV file, which you exported.
Select "Do not import duplicate items".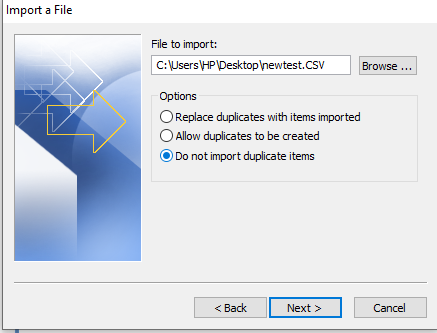 Choose your personal contact folder which is currently empty.
Press on finish button.
Now you can check the all contacts are available or not, using drag n drop from duplicate item folder to personal contact folder. Every time Outlook shows "Duplicate contact detected" with two choices.
Add new contact.
Update information of selected contact.
You can update each contact here. When this process is completed then delete duplicate item folder.
Delete Contacts in Outlook (for MAC) 
If you are a MAC user then first export contact from Outlook to the MAC address book then delete duplicate contacts from MAC.
Export Contact from MAC Outlook
Create a new folder on Desktop
Select all contacts in MAC Outlook and Drag them to a new folder.
Now open the contact app and drag all contact from the new folder to the contact app.
In the Contact app, click on the file tab >> Export.. > Export vCard in the new folder.
Save the folder onto your Desktop with any name.
Delete duplicate Contacts from the Contact app
First, make a copy of your contacts and save it on the contact app with a new folder.
Open the folder and click on the Card menu >> select "Look for Duplicate".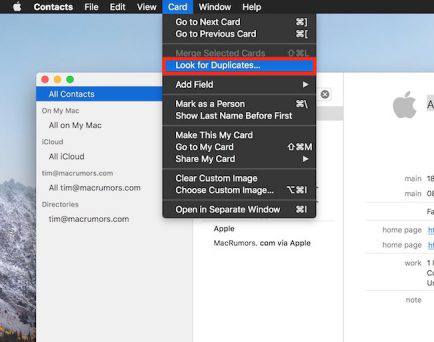 After checking the details it asked, click Merge.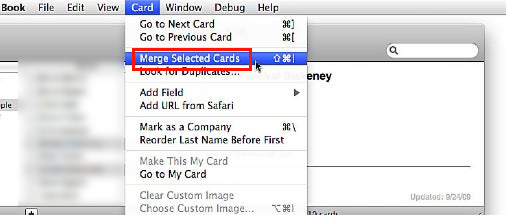 Simply click on the merge button (i.e. two contacts combined into one).
Now repeat steps again from 2 to 4, until no duplicates are found.
At last, when it is all done, you can import this contact folder into MAC Outlook.
How to delete duplicate emails in Outlook (for Windows)
Email is a big part of any company, business, or industry as it is a useful mode for sharing and receiving information about regular activities, meetings, client expansion, etc. If Outlook is generating duplicate emails then it slows down the working speed.
Behind the Reason for Duplicate Emails
Different types of companies send the same email, blog, and newsletter to attract the attention of the user.
Import similar mail from different online email servers such as Gmail, Yahoo, etc.
Laps the synchronization between the processes, resulting in duplicate emails created in Outlook.
Technique to remove duplicate emails in Outlook
Using Import and Export Option
When you have PST data files of with many duplicates email and you want to import it then follow these steps.
Open MS Outlook.
Go to file >> select Open option >> click Export option then Import/Export
Choose "Import from other file or program" and hit next.
Choose PST file options then next.
Browse PST data and check the "Do not import duplicates" option >> press the next button.
Select Outlook data and after completing, the process clicks on the Finish button.
Clean up Tool of Outlook
Use the inbuilt utility of Outlook to eliminate the duplicated email in Outlook.
Run MS Outlook.
Go to cleanup option >> Once it is expanded, it will appear three options.
Now choose an option of cleaning up the folder and subfolders.
Click yes to continue, and now choose settings manually.
When MS Outlook window is displayed on screen >> browse option for providing the location of Outlook PST file.
At last, choose the folder and select an option to delete items then hit Ok.
 Note: If you don't have PST data then first export all data in PST format using an exchange server then import in Outlook again.  
How to eliminate the emails in Outlook (for MAC)
 If you are a MAC user then you need some technical knowledge to delete duplicate files because some Apple Scripts are available to prevent the data from duplicating. Therefore install these scripts and run them on MAC OS.
Direction to load script in MAC OS
Download Apple Script from the website
Click on the script icon (on the right side of Help) and select "About this menu".
Click open the script menu folder and put the script in this folder.
Now select the script from the Menu bar to run it.
Conclusion: Above methods are so easy for any technical or non-technical user. Using these methods, you can easily remove duplicate contacts and emails in Outlook. If you have any queries then leave a comment.
Read Other Blogs:
Create Distribution list in Office 365