What is Google takeout & why it's required to take a backup of Gmail Account
Google takeout allows you to take a backup or download their data, which data is store in Google services like Gmail, Google drive, Google+ etc. with 15 GB storage. It was created by Google data liberation on 28thJune 2011. Below we will know that "How to Take Backup of Gmail in MBOX Format via Google Takeout"
Let's see the effect and importance of Gmail backup & Google Takeout
Save yourself from Unauthorized Access: Nowadays, Hackers or Attackers always search for email account's weaknesses or loose-points and then steal important personal information. It is not good for branded companies or industries, so it is necessary to take a backup of Gmail and save it in a particular drive for the future.
Google Suspend Gmail Accounts due to suspicious activities: Sometimes user mails are highly involved in product promotion/irregular activities. Which are against of Google Terms & Conditions, your account is blocked. You cannot even claim to retrieve Gmail data, because you are using Google's free service. So if you are using this type of activity then keep your data save as a backup.
Avoid Data Loss: Google provide a highly data protection and data security  to own customer but unauthorized always try to break a security  and grab the information.
Data sharing from illegal companies: Some companies share their data, thereby increasing the risk. Because, Data sharing increases the chances of getting infected.
Protect yourself from internal threats: if you are using Gmail service than it's important to protect yourself from unknown mails or redundant mails.
Stop tracking your emails: With Email Tracking, you can monitor email delivery to the desired recipient. So that you can know the exact time & date. When the email is received & opened, as well as the location & IP can also be known.
Creating more space for your mailbox: If you take a backup of your data then you can delete that data from Gmail to store more items in your Gmail account. Because you know that Gmail provide 15 GB free space. In other hand if you want to increase some storage then you can use Google Paid service.
How to Take Backup of Gmail in MBOX Format via Google Takeout
We have two options to take a backup of Gmail mails in MBOX format and both are nice according to user needs. So let's check how we can do this.
Backup All Gmail Data in a single Folder
Export Gmail emails to MBOX with Folder Structure
How to take a Backup All Gmail Data in a single Folder
First Login to your Gmail Account then type Google takeout in new tab and hit Search button. you may visit here for Google takeout
You will see a window like this: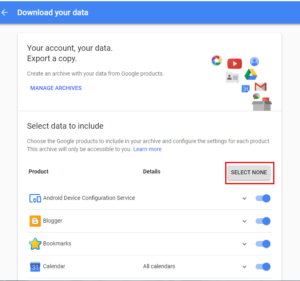 Select None because we want to take a backup of Emails only.
Scroll down and Enable Mail then click on Next Button.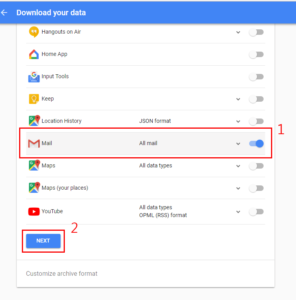 New Screen will be appearing on the screen with some option:
File type: here, you can set a file format like .zip, .tgz etc. But .zip is most common format and all knows it's use, so select zip format.
Archive Size: Select 2GB size because if you want to increase the size then zip format not supported some old operating system. like this..
(Zip files larger than 2GB will be compressed in zip64. Older operating systems may not be able to open this file format.) 
But if you want to increase than you can select 4GB/10GB /50GB.
Delivery method: You can choose a location where you want to download link of your backup  like Drive, Onedrive, Dropbox, box & email.
After Select above option, you can hit on Crete Archive button.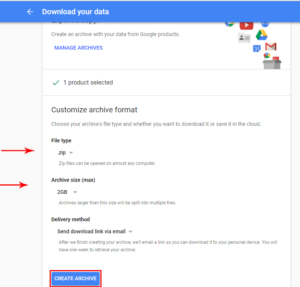 When you click on Create Archive button, A window appear on the screen. Which is show you that it will take some time to complete your Archive.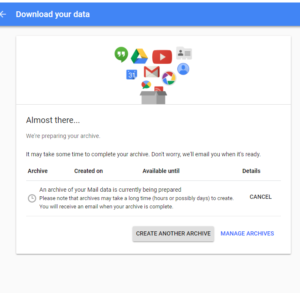 Note:Archives may take a long time (hours or possibly days) to create. You will receive an email when your archive is complete
When your backup is ready then you will see this window in your inbox
( if you select delivery Method is email)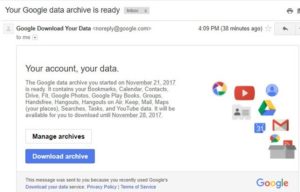 Export Gmail emails to MBOX with Folder Structure
Second process is similar to first process but here difference is, you can take a backup of your data by their folders hierarchy.
Same as login to your Gmail Account then go to Google takeout >> hit Select none
Find Mail and click on it
Select labels then Mark you important folder and then click on OK button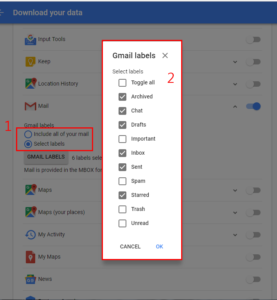 Scroll down and Click on Next.
Set  ,zip file type (set by default .zip) >> 2GB Archive size (set by default 2GB) >> Delivery method (set by default send download link via email)
At last Hit on Create Archive button and wait for the process to finish.
Conclusion: I have shown you, "How to Take Backup of Gmail in MBOX Format via Google Takeout". it's quite simple and instant way to take a backup of gmail services. if you have any query then leave a comment.